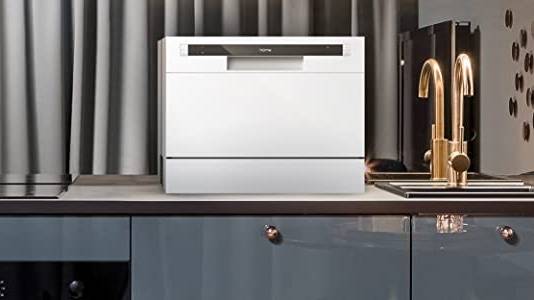 Homelabss Compact Countertop Dishwasher
Now you know if I've found a great product it would only be right for me to share. Doing dishes is not a chore that most people look forward to. Tack on holidays and add guests and you'll have a pile of dishes that you will dread doing. I've decided to try the homelabs compact dishwasher. My only concern was that I thought it was not working because it was so quiet. This quiet dishwasher is not only powerful but is extremely spacious inside and compact enough to fit in any small kitchen. If you're not keen on instructions, they have a very helpful customer service team that will guide you through the way. There are many settings to choose from depending on what you are washing and the degree of strength that you would require. Stop messing your nails up and let the dishwasher do its job.
Some other features we love:
This dishwasher is easy to set up and easy to use.

It is perfect for smaller kitchens. 

It uses only 3.1 gallons of water which will save you time, energy and money!